Welcome!
Welcome to the Holy Trinity Lutheran Church of Ephrata website. We hope this site will help you learn more about us and our witness to Christ. We strive to recognize and celebrate the presence of Christ in the world around us. Holy Trinity has a long tradition of outreach and service to its members and the community. We hope you will join us for worship.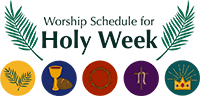 Holy Week
Palm/Passion Sunday
April 2, 2023
Holy Communion 9:00 AM Sunday School 10:15 AM
Blessing of the Palms
Reading of the Passion according to Luke and Holy Communion
Wednesday, April 5th
Evening Prayer 7:30 PM
Maundy Thursday
April 6th
Services at 12:00 and 7:00 PM
Absolution, Holy Communion, Stripping of the Alter
Good Friday
April 7th
Traditional Liturgy service 7:00 PM
Holy Saturday
April 8th
Egg Hunt - 10:00 AM
Children are invited to join us in the social hall.
Be sure to bring your Easter Basket!
Easter Vigil Liturgy at 7:00 PM
Easter Sunday
April 9th
Festival Liturgy - 9:00 AM
To watch live: Go to https://holytrinitylutheranchurchephratapa.sermon.net/main click on Now Playing click on Tune in Live To watch a recording of the service: click on Now Playing click on Play Video To Listen Live on a telephone: call (717) 733-4134 Once the church message begins dial 7001. If that does not work, try 7001#. Call five minutes before the service begins and wait. Please remember to mute your phone during the service or remain silent during the service.
PLEASE JOIN US FOR WORSHIP

SUNDAY'S @ 9AM

THURSDAY'S @ 7PM

OR ONLINE ANYTIME
Look at Our Photos
Come see a slideshow of our community and get a glimpse of some of the many activities that take place at Holy Trinity.
Meet Holy Trinity Lutheran Church of Ephrata
Come to the About Us section to meet the staff and clergy and find out what we're all about!